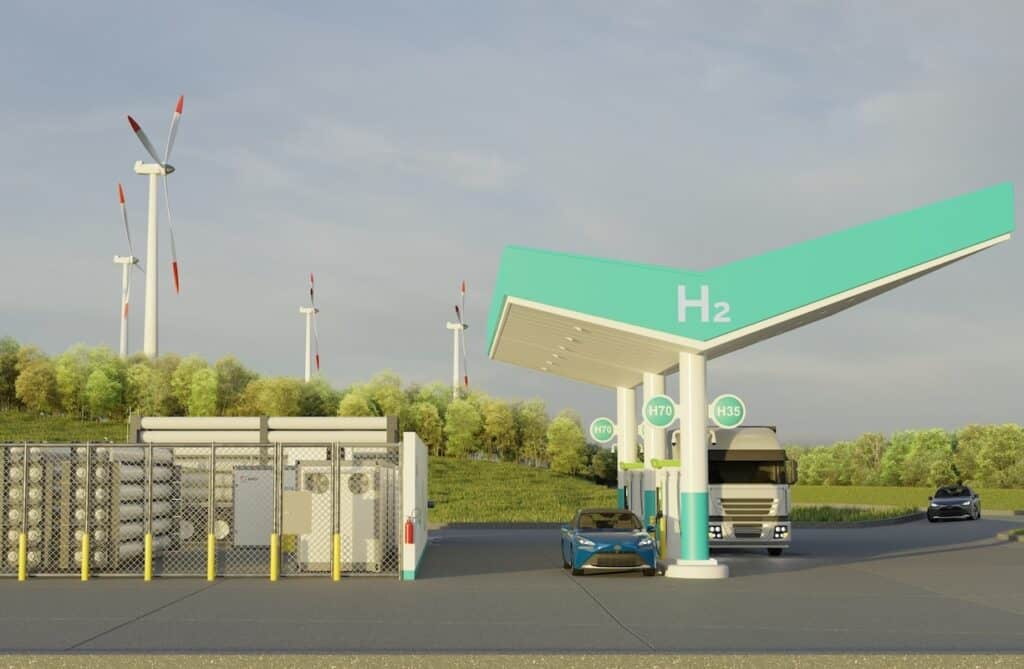 Another milestone has been reached on the road to decarbonisation of pubic transportation in California, with a state-of-the-art Hydrogen Refuelling Station (HRS) to be developed there for a local provider.
The turnkey station will be installed for Santa Clarita Transit, in support of its future-oriented plan to transition its bus fleet from compressed natural gas (CNG) to zero-emission hydrogen fuel-cell vehicles.
The HRS marks another important step for the regional hydrogen economy and comes hard on the heels of a key funding programme announced by the US Department of Energy, including a significant award for California's new hydrogen hub, the Alliance for Renewable Clean Hydrogen Energy Systems (ARCHES).
ARCHES has been allocated up to $1.2bn, as part of a $7bn programme for a national network of seven Regional Clean Hydrogen Hubs (H2Hubs). California itself has a target of 200 hydrogen stations by 2025.
End-to-end solution accelerates energy transition
Secured by ANGI Energy Systems (ANGI), the order for the state-of-the-art HRS will be supplied to Trillium Energy Solutions, a provider of alternative fuelling solutions and part of the Love's Family of Companies.
ANGI is part of Gilbarco Veeder-Root, which operates under the Vontier Corporation. Fortune 500 company Vontier (NYSE: VNT) is a global industrial technology company uniting critical mobility and multi-energy technologies and solutions to meet the needs of a rapidly evolving, more connected mobility ecosystem.
ANGI's HRS offers a complete, end-to-end solution for hydrogen refuelling, enabling fleet operators and transit companies an effective means of transitioning to zero-emission vehicles.
Representing ANGI's first full order for hydrogen, this latest contract continues the company's strong partnership across multiple fuels with leading alternative energy infrastructure provider, Trillium.
Millions more riders on road to clean energy
Santa Clarita Transit is a critical local transportation provider serving over two million riders each year in California. The organisation will be taking advantage of ANGI's first HRS as part of its continued efforts to reduce its environmental footprint by shifting to cleaner energy.
With the support of ANGI and Trillium, Santa Clarita Transit plans to transition to fuel-cell buses as its CNG transit buses reach the end of their useful life. This approach aligns with the City of Santa Clarita's bus replacement plan, which aims to replace one twelfth of the overall fleet with cleaner alternatives each year.
The initiative also complies with California's Innovative Clean Transit (ICT) regulation, which requires all public transit agencies to gradually transition to a 100% zero‑emission bus fleet.
This new installation is further evidence of the energy transition in action, at both local and regional levels, says Joel van Rensburg, President of Alternative Fuels at ANGI:
"Santa Clarita Transit has an impressive history of investing in clean energy solutions and has shown inspirational leadership to adopt alternative fuelling platforms. Our cutting-edge HRS for this groundbreaking site will benefits millions of Californians and we are also thrilled that the State has been recognised as a national hydrogen hub."
Versatility of modular station design
The ANGI HRS is based on a modular design, offering uniquely configurable and flexible systems with high reliability, backed by an extensive network of service and maintenance technicians.
The inclusion of cloud-connectivity also ensures best-in-class performance and uptime through remote monitoring, energy management and preventative maintenance.
A typical HRS is comprised of a hydrogen dispenser, redundant compression capabilities, a site recirculation system, chillers, and a gas management panel which uses logic to control flow and pressure.
The versatility of the turnkey HRS offering is key, says Mark Morelli, Vontier's President and CEO:
"ANGI is mission-critical to delivering our multi-energy portfolio of solutions across the mobility ecosystem, simultaneously supporting demand for traditional petroleum-based infrastructure, compressed and renewable natural gas, hydrogen, EV charging network software and energy management."
Compression, renewables and Travel Stops
ANGI Energy Systems LLC, is a US-based manufacturer of quality engineered gas compression equipment and a leading supplier of CNG refuelling equipment and systems.
With over 40 years of experience serving clients worldwide, ANGI has a longstanding reputation as an innovator in both the compression and natural gas vehicle (NGV) refuelling station industries.
Trillium Energy Solutions is a leading provider of renewable fuels and alternative fuelling solutions, offering expertise in compressed natural gas, hydrogen, electric vehicle charging, renewable natural gas, solar installation and on-site electricity generation.
Trillium has supported transportation fleets for over two decades by designing and implementing customised clean fuel infrastructure, including many CNG solutions with ANGI, and now hydrogen.
Trillium is a member of the Love's Family of Companies, which is headquartered in Oklahoma City and employs more than 39,000 people across the US. The Family operates Love's Travel Stops – North America's leading network with over 645 locations in 42 states.
Trillium dispenses over 86 million gallons of natural gas fuel annually from over 200 facilities across 26 states, including more than 65 public-access stations, many of which are hosted at Love's Travel Stops.
---
Further Reading:
---
---
Check out full archive of stories on the SustMeme Transport & Mobility Channel, now available to sponsor.
---