---
GUEST BLOG: You might be surprised to discover some of the more unexpected items that can actually be recycled, if you know where and how…
When we consider recycling, we usually think of paper, glass and cans. However, recycling is continually evolving. In this SustMeme Guest Post, Rebecca Currier, Marketing Manager at CarTakeBack, the largest scrap car recycling network in the UK, reveals lots of other unexpected items we can actually recycle. It shows the huge progress made over the past few years with recycling and helping to sustain our planet. Plus, just because it can't be recycled now, doesn't mean we won't be able to soon.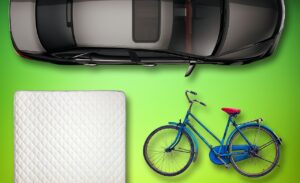 RC: Every year in Britain, we throw away over 22M tons of rubbish – and the majority of our unwanted goods end up in landfill. We know we can recycle our plastic bottles, tin cans and old papers, but what unexpected items can we also recycle to reduce thisimpact?
In fact, there are so many other everyday objects that can be reused and recycled…
Furthermore, by optimising opportunities to recycle, we can also take steps to cut carbon emissions, save energy and reduce pollutants into our environment.
So, join the war against climate change today — ask yourself, have you got any of these lying around the house that you could recycle… ?
Wine corks
Wine disappears surprisingly easily! However the same can't be said for the cork in the bottles. Corks won't break down in landfill, but you can recycle them with Recorked UK.
When you do so, they can re-sell them – and for each donated cork, they give a percentage of profit to nominated charities and also provide free corks to schools for arts and crafts.
Donate your corks for recycling here
Cars
Even the best vehicles come to the end of their life. Did you know you can recycle your car… and get paid to do so? CarTakeBack gives you the best price for your scrap car, their licensed recycling centres safely remove all harmful materials from it and re-use or recycle up to a whopping 95% of the car.
I want to scrap my car
Trainers
Trainers can take a hammering, and once they can no longer hack another step, you can recycle them with Nike. Their Reuse-A-Shoe programme gives your running shoes plenty more miles.
Find a Nike store to drop off your athletic shoes
Bras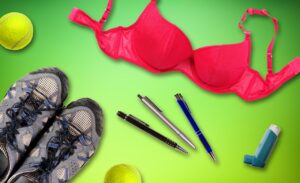 Do you have unwanted and unloved bras lying around? Don't bin them, Against Breast Cancer recycle them and at the same time, raise vital funds for cancer research.
We can avoid bras going into landfill and give them a new lease of life in countries where bras are too expensive to produce locally.
Find a bra bank near you
Eyeglasses
'Donate, Recycle, Transform' – Vision Aid Overseas recycle donated eyeglasses so they can provide affordable eye care in isolated communities. Their incredible work reaches the poorest people in need of eye care.
Donate your glasses with Vision Aid Overseas
Bikes
One peddle turn at a time, Re-Cycle change lives by sending bikes to people in Africa who desperately need them. They recycle UK bikes and send them to rural communities – in some parts, it can take up to 4 hours to get to school or to a water source. Re-Cycle have helped to improve school attendance by 30%.
Find out where you can recycle your old bike
Inhalers
Surprisingly, you can recycle your old respiratory inhalers. 'Breathe new life into your old inhalers' with Complete the Cycle.
Some 73 million inhalers are prescribed every year in the UK, when they're not disposed of correctly they end up in landfills and harm the environment.
Find your local participating pharmacy and recycle your inhaler
Clothes and tights
H&M runs a global Garment Collecting Programme. They guarantee 'all clothes collected by H&M are either reused, reworn or recycled with 0% going to landfill'.
They'll accept any unwanted clothes, in any condition. Plus, you can secure yourself a £5 voucher for each bag you donate.
I want to find out more about recycling my unwanted clothes and tights at H&M
Mobile phones
We're always upgrading our phones to the latest gadget. But what happens to all your old phones? There's usually a whole drawer full at home. If no-one wants them, most charities accept donated old phones.
There are a number of ways to recycle phones – find out more here
Writing tools
When writing tools dry up and can no longer form another letter, you can recycle them. The BIC programme accepts any brand of pen, highlighter, marker, felt tip, and mechanical pencil.
Find out more about recycling your pens here
Paint
Post-DIY, any leftover paint can be donated to your local scheme with Community RePaint. They redistribute the paint so communities in need can brighten their spaces and lives.
Find out more about the Community RePaint scheme
Toothbrushes
Terracycle and Colgate have partnered so we can recycle oral care products and packaging. This also directly helps those in need too, you can redeem points you collect into financial donations for your chosen charity or school.
I want to recycle my toothbrush and oral care
Mattresses
Dreams don't just bring you a new comfy mattress, they also pick up your old bed and mattress and take them to a bed recycling facility.
Find out how to recycle your mattress with Dreams
Tennis balls
When tennis balls can take no more hits and they've lost their pressure, they end up in landfill. However, Recycaball is a not-for-profit and they recycle them. What's more, you can even get paid 25p for each one you recycle.
Find out how to recycle your tennis balls here
Fairy lights
Your festive and fairy lights are WEEE (Waste Electrical and Electronic Equipment), so can't just go into your normal black bin. They can actually be recycled, though, at your local household waste recycling centre. Some authorities across the UK even collect them from you.
Find out where to recycle your fairy lights here.
---
If you know of any more surprising items that can be recycled, feel free to Tweet us at @SustMeme and let us know!
---
More information on CarTakeBack can be found on the company's website here.
---
---
You can check out the full archive of past Guest Blog posts here.
Would you like to Guest Blog for SustMeme? For more info, click here.
---
SUSTMEME: Get the Susty Story Straight!