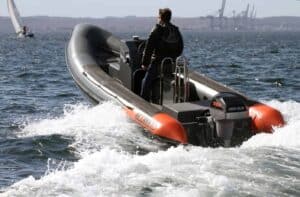 Already transforming high-speed motorsports on the road, the race to go electric and cut carbon is now taking to the water, with World Sailing Challenge 2024 driving innovation amongst boat designers and manufacturers.
In response, Denmark-based Tornado Boats has launched a new climate-neutral coach boat for sailing clubs, the Tornado 6m ZERO-E. This 6-metre rigid inflatable boat (RIB) is powered by a Torqeedo Deep Blue 50R outboard motor and a 40 kWh Deep Blue battery.
Closely linked to the Sustainability Agenda 2030 targets for World Sailing, Challenge 2024 was initially launched last year at Monaco Yacht Club Solar and Energy Boat Challenge (MCSEBC). Appropriately enough, Challenge 2024 was presented alongside the successful FIA Formula E race programme, which has greatly accelerated investment from the automotive sector in electric technologies. The ambition for the sailing community is essentially comparable, with World Sailing seeking to set the agenda as the sport's governing body.
World Sailing had issued the challenge to the marine industry to push the boundaries of low-carbon innovation for support boats at international events. Going forward, the aim is that this decarbonisation model can be applied to the wider marine industry, not just World Sailing events, so similar boats can be utilised for rescue and recreational activities.
Primarily, Challenge 2024 has set the sport two key goals: to halve the total number of combustion-powered coach boats at Olympic Class events by 2024; and to eliminate fossil fuel-powered official boats by 2025. World Sailing's research indicates they will reduce their carbon footprint by 30% simply by switching the support vessels to alternative drive systems.
The time is now right, both environmentally and commercially, to go electric, suggests Lars Hjorth, an avid sailor and owner of legacy RIB manufacturer Tornado Boats, who decided to take up the challenge.
"I started looking into building an electric coach boat about three years ago, but thought the price was too high for the market at the time. Now, I believe the market is ready, partially due to the automotive industry and partially due to World Sailing's Challenge 2024. This will help to drive customers to the emission-free propulsion option."
RIBs became popular for coaching in the early 1990s because their inflatable tubes act as giant fenders, allowing the coaches to closely approach the sailing dinghies during practice sessions without risking damage.
Now, almost all sailing coaches, from Olympic Class down to local youth sailing classes, are driving RIBs. Taken together with official boats and other harbour support boats, yachting clubs have therefore become a significant market for RIB manufacturers like Tornado.
There are some exciting advantages to electric coach boats, explains Hjorth:
"Sailing is a clean sport that runs on natural wind and has minimal impact on the environment. The electric propulsion allows the coaches to act as green and environmentally friendly as the athletes. It might also open opportunities to allow further use of coach boats on lakes and waterways where there is a restriction on the use of fossil-fuelled boats."
The boatbuilders at Tornado Boats heavily modified a 6-metre RIB to fit the Deep Blue system's most energy-dense high-capacity battery, recessing the suspension system into the hull and manufacturing a custom battery cover which included the seats in the boat, plus a compartment for the cooling system and system-management unit.
Responding to the demands of the electric agenda calls for innovative thinking, adds Horth:
"The 6.0m boat is a very compact and narrow design, with the space on deck limited. So, we had to use a lot of tricks to minimise the space used by the battery and its support parts."
At this stage, the goal is simply to match traditional performance expectations, he concludes:
"The performance of the boat is in many ways very much the same as if it was powered by a 70hp petrol outboard engine. Our aim was to get exactly this — a boat that performs like 'normal' and doesn't feel limited by the propulsion system."
Final testing has been delayed due to the situation around COVID-19, but Hjorth is optimistic that the boat's range will be sufficient for a full day at typical coaching speeds.
Building on this initial electric success, Tornado is also planning to introduce a small coach boat powered by the Torqeedo 10kW motor. Due for release later this year, development of this model has just begun.
Torqeedo is the market leader for electric mobility on the water. Founded in 2005 in Starnberg, the company develops and manufactures electric and hybrid drives from 0.5 to 100kW for commercial applications and recreational use. Torqeedo products are characterised by an uncompromising high-tech focus, maximum efficiency and complete system integration.
Torqeedo is part of DEUTZ Group, one of the world's leading manufacturers of innovative drive systems.
---
Further Reading:
---
---
>>> Do you have sustainability news to broadcast and share? If you would like to see it featured here on SustMeme, please use these Contact details to get in touch and send us your Press Release for editorial consideration. Thanks.
---