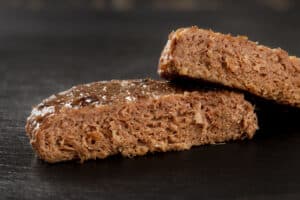 The popularity of plant-based menu options and diets is on the up. In fact, the market has grown significantly during COVID — so too, though, has the global food-waste mountain. Not everyone, however, can put sufficient food on the table at present, or eat what they need, never mind what they want.
An impoverished diet is one of the primary signs of economic hardship and regular access to adequately nutritious meals was already proving a challenge for many vulnerable people prior to COVID-19. However, the extreme toll taken by the panedmic on public health and wellbeing has been compounded further by rising job losses and spiralling financial insecurity.
In response, Heura, Europe's fastest-growing plant-based food brand, has made an in-kind donation of more than one thousand meals to leading UK food charity Refettorio Felix to help provide nutritious menu options to Londoners in need during January.
The donation was made to support Veganuary, the global challenge started in the United Kingdom that encourages people around the world to go vegan for the month of January. In total, some 400,000 individuals from 192 countries joined this initiative last year, and over one million people have taken part in the challenge since its inception.
Speaking about the donation of 1380 plant-based meals, food activist, CEO, and co-founder of Heura Marc Coloma said:
"When we heard about Refettorio Felix's mission to provide nutritious and sustainable meals using surplus food to those in need, we were immediately struck by how much their values are aligned with our own. Activism is at the heart of everything that Heura does, and we are thrilled to be able to work together with Refettorio Felix towards our shared goal of creating a more equitable, compassionate, and ethical future for both our planet and those in need."
"During a time where the Coronavirus pandemic has led to a significant increase in food insecurity, these values and goals are more important than ever. We all must do our part to build a future where everyone has access to a good quality, environmentally friendly, and nutritious meal."
Plant-based meals can play a doubly important role in meeting demand by simultaneously fighting food waste and catering for a diverse range of dietary requirements, explains Refettorio Felix Head Chef Cleo Melvin:
"'Everyone should have the right to a vegetarian or vegan meal, for environmental, animal, religious, health, or any other reasons or beliefs. As an organisation that is focused in reducing food waste, much of this is vegetable-based. We have the option to provide meals for different diets and reduce waste simultaneously. We are focused on providing healthy and nutritious diets for all"
Refettorio Felix works with homeless, elderly, and lonely populations. They provide positive and warm therapeutic services to accomplish the charity's objectives of relieving poverty, hardship, sickness and distress. The charity's impact is grounded in the power of a shared meal of outstanding quality made with 100% surplus and sustainable food.
Refettorio Felix partners with The Felix Project, an independent charity that supplies it with surplus produce including fruit, vegetables, cereals, meat and fish, dairy and herbs and spices. The Felix Project collects edible, in-date food that cannot be sold in retail and delivers it to charities so they can provide healthy meals for the most vulnerable in our society.
Fastest-growing plant-based pioneer in Europe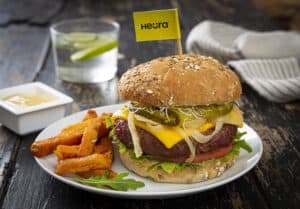 With a turnover of €8M in 2020, up from €2.5M in 2019, Heura is described as the fastest-growing 100% plant-based meat company in Europe. Founded by food activists Marc Coloma and Bernat Añaños, Heura was born in April 2017 and is currently present in 3,000 points of sale in 13 countries around the world: Spain, Andorra, Portugal, France, the Netherlands, the UK, Singapore, Hong Kong, Vietnam, Malaysia, Egypt, Canada and Chile.
The brand is famous for its Heura Burger and the stated mission of this disruptive start-up is to create solutions that make the current food system obsolete and accelerate the transition to a world in which animals are out of the protein production equation entirely.
In terms of innovation, Heura has brought to the plant-based sector a transformative 'fat analogue' made with extra virgin olive oil to produce a plant-based burger with 85% less saturated fat than an animal meat burger. This innovation will also be applied to all new product developments for 2021 with the Mediterranean company expanding its portfolio.
Whilst the donation to Refettorio Felix did not on this occasion consist of surplus food, the Heura brand fully supports the campaign to cut down on food waste; and, in its native Spain, the company is part of an initiative led by the food-rescue app Too Good To Go. Supporting a strong sustainability agenda, Heura products last year saved over 3,000 million litres of water, 6.7 million kg of CO2, and the lives of over 400,000 animals.
---
Further Reading:
---
---
>>> Do you have sustainability news to broadcast and share? If you would like to see it featured here on SustMeme, please use these Contact details to get in touch and send us your Press Release for editorial consideration. Thanks.
---