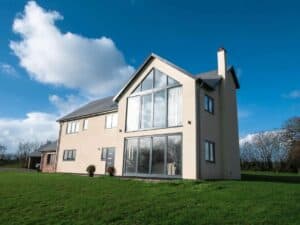 At a time when the UK housing market is reopen for business, but facing the propsect of a sharp fall in demand and activity, any good news is welcome. So, the announcement of a takeover involving key players from two of the more buoyant sectors — offsite eco and self-build homes — sends out a positive signal for residential development.
Offsite eco developer Project Etopia has confirmed its acquisition of self-build specialist Tribus Homes. The takeover will form the foundation of a new self-build division within Project Etopia and includes the Tribus manufacturing facility in Devon which has capacity to produce 200 homes a year.
The two companies had formed a partnership under the 'E-Tribus' banner last year, but Project Etopia has now purchased the specialist firm outright. Lee McArdle, who co-founded Tribus Homes, will remain its Managing Director, and rebranding will begin later this year.
Tribus Homes was created to help people build their dream homes. In the beginning, the company employed timber frames but later progressed to using the same Structural Insulated Panels (SIPs) used by Project Etopia.
These SIPS can be fitted with Project Etopia's smart home technology — including lighting and ventilation — as well as Etopia's Energy+ configuration, which generates and stores electricity.
Located just outside Tiverton, Devon, the Tribus factory will be employed by Etopia as an example of the sort of micro-manufacturing facility that can be set up around the country to support councils in their housebuilding ambitions using offsite technology.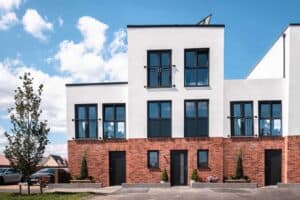 Such factories, which would be smaller than Etopia's 2,000-a-year capacity unit in Ellesmere Port, can be set up in just six to nine months.
Self-builds have become increasingly popular in recent years as house prices have continued to soar and people have struggled to find the homes they want in the right areas. Commenting on the takeover, Joseph Daniels, CEO of Project Etopia, said:
"We are delighted to formally bring Tribus Homes under the Etopia banner. This acquisition means we can use Tribus Homes' manufacturing facility in Devon to produce up to 200 new homes a year in the South West without needing to transport goods around, therefore making developments much more sustainable.
"The factory is a prime example of how a number of satellite, small-scale facilities can be positioned around the country to create local jobs and deliver homes. Tribus will continue to provide people with their dream self-build homes, all of which will feature the smart home and energy technology incorporated in all Etopia projects."
Project Etopia was founded in 2015 and produces modular homes and high-quality school buildings that can be built in under four weeks. Its designs incorporate pre-installed energy-efficient technology such as solar power, heat recovery, mechanical ventilation and Passive House architectural design features to ensure each building is capable of producing more energy than it needs.
---
Further Reading:
---
---
>>> Do you have sustainability news to broadcast and share? If you would like to see it featured here on SustMeme, please use these Contact details to get in touch and send us your Press Release for editorial consideration. Thanks.
---