GUEST BLOG: Have you got the next big idea to help reduce water loss?
Would you like to play a key role in helping solve one of the world's major environmental challenges? In this SustMeme Guest Post, Katharine Teague, Head of Advocacy at AB Sugar, one of the world's leading sugar businesses, outlines why the company has partnered with WaterAid and the Centre for Industrial Sustainability at the University of Cambridge to launch an ambitious worldwide challenge to provide new ideas on how to address water loss in irrigation. The invitation to innovate is open to anyone – from students to start-ups. So, if you have an interest in water and irrigation, read on…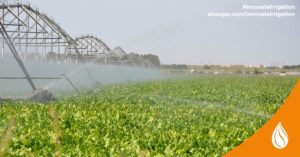 KT: Global challenges call for global solutions and one of the biggest challenges the agricultural sector faces is that of water withdrawal. In fact, according to the Food and Agricultural Organization of the United Nations (UNFAO), agriculture accounts for 69% of the world's water abstraction.
To help meet the challenge of water loss in irrigation specifically, we have teamed up with WaterAid and the Centre for Industrial Sustainability at the University of Cambridge to launch The Innovate Irrigation Challenge – and we want you to take part! It's a global initiative that invites anyone with a new idea to help tackle water losses from irrigation in sugar, and beyond.
Get involved in The Innovate Irrigation Challenge
The winning idea will receive a £10,000 prize and recognition from an esteemed panel of judges, as well as the unique opportunity to work with some of the organisations behind the Challenge to test the viability of the idea. There is the potential for your idea to impact the future of sustainable agriculture on a worldwide scale and make a real difference.
Would you like to be part of this? Head over to www.absugar.com/innovateirrigation for all details, including an introduction to the judging panel. Make sure you register now to take part! All entries are to be submitted in a 48-hour period during the 19 and 20 June 2019.
Also, why not join our Facebook Group and get involved in the conversation or on social media using #InnovateIrrigation.
Commitment to growing a sustainable future
At AB Sugar, we have a sense of responsibility to continuously improve the socio-economic and environmental impacts of our operations. With operations across 24 plants in 10 countries and employing more than 30,000 people and producing around 4.5 million tonnes of sugar annually, we continue to ensure that we lead the way in our industry by investing and continuously driving change to have a real impact.
The threat of climate change is growing and with this increases the pressure on our water resources, even though we are already doing everything we can to reduce, reuse, recycle and efficiently store the volumes of water used across our operations. That's why as part of our 'Global Mind, Local Champions' sustainability framework, which is centred around three pillars of sustainability – economic, social and environmental, we have already signalled our ambitious global commitments, which have been designed to support the UN's Sustainable Development Goals (SDGs), which includes reducing our end-to-end supply chain water and CO2 footprints by 30% by 2030.
We are, and continue to, use everything we have learnt over many decades as a sugar producer across three continents to empower our businesses to deliver positive change in their local market. Our commitments demonstrate this by:
Building vibrant, diverse value chains that increase the prosperity of our communities
Build thriving and healthy communities. To do this, we are committed to providing 25 million people worldwide with science-based information on sugar, the diet and health
Reducing our end-to-end supply chain water and CO₂ use by 30% by 2030 and ensuring all our plastic packaging is reusable, recyclable, biodegradable or compostable
Achieving our 2030 vision will require collaboration across our entire supply chain and working in partnership with other like-minded organisations and businesses. One such example of this is The Innovate Irrigation Challenge', by opening the door to new ideas and ways of thinking from people around the world to help reduce water losses further in irrigation. I am excited to see Challenge entries and it is a perfect opportunity to tackle one of the key issues of our time.
Good luck on entering!
---
---
Would you like to Guest Blog for SustMeme? Click here for more info…
---
SUSTMEME: Get the Susty Story Straight!