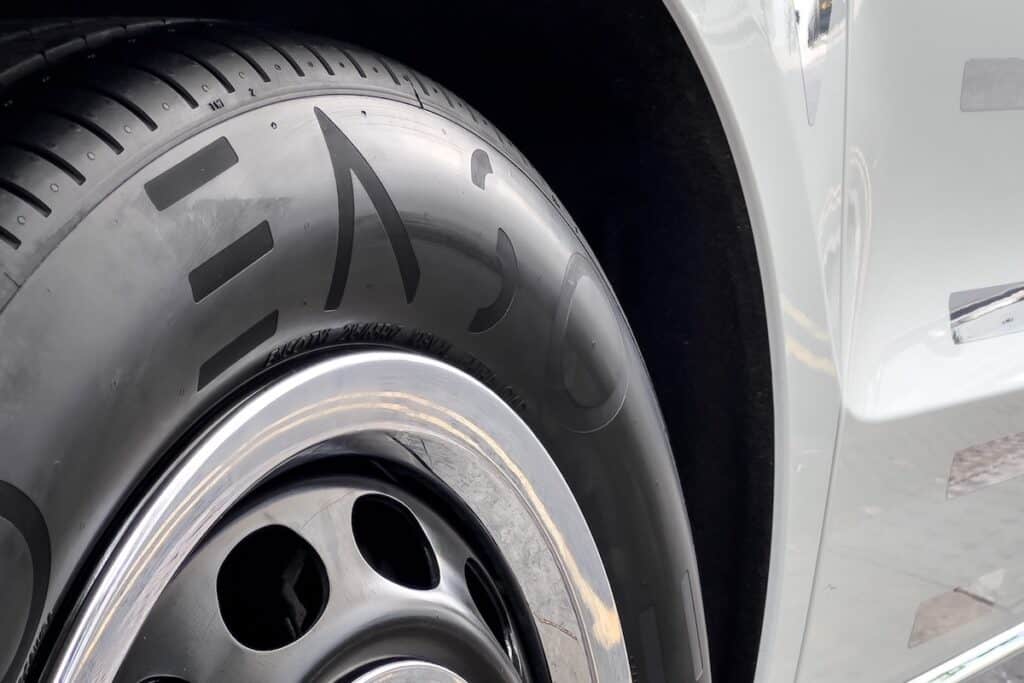 For an innovative fintech-backed tyre solution to claim it can reduce air pollution from particulate matter, as well as end-of-life waste and marine microplastics, is a pretty ambitious sustainability statement. Things get radical, though, when the offer includes improved vehicle performance and efficiency, with no upfront cost.
London-based EV tyre manufacturer ENSO will launch its innovative Pay-Per-Mile Tyre this summer, in collaboration with digital fleet financing provider Zeti. Their partnership will see the world's first range-extending 'A'-rated tyre specifically designed for electric taxis — the ENSO TX1 —  fitted to more than 100 London Electric Vehicle Company (LEVC) TX taxis, ahead of a wider rollout to consumers.  
The ENSO Pay-Per-Mile Tyre will offer electric taxis access to better tyres with no upfront cost. Turning the traditional industry model on its head, it incentivises the development of longer-lasting tyres and addresses the significant and growing issue of tyre pollution resulting from the continued adoption of EVs. 
Tyre pollution, particulates and microplastics
Particulate matter from tyres is a major source of UK air pollution according to the Department for Environment, Food and Rural Affairs (DEFRA). Research by the International Union for Conservation of Nature and Natural Resources (IUCN) has revealed tyres are also responsible for 28% of all primary microplastics in the world's oceans.
Furthermore, most end-of-life tyres are incinerated, with each ton producing 650kg of CO2.
With toxic chemical compounds and wear rates varying substantially between the cheapest and most premium tyre brands, experts state that simply removing the worst-offending tyres from the road will have a significant impact.
By offering its range-extending 'A' rated TX1 tyre with zero upfront cost, ENSO is seeking to remove a significant barrier to the affordability of high-quality low-emission tyres, whilst at the same time promising customers enhanced EV range and performance, as well as savings on running costs by using less energy per mile.
Change is needed to tackle pollution and waste, says Founder and CEO of ENSO Gunnlaugur Erlendsson:
"The traditional tyre industry business model incentivises volume and indirectly creates huge levels of tyre pollution, and enormous tyre waste at their end-of-life. As EV sales grow this problem is also getting worse, given that EVs wear out tyres 20-50% faster according to Michelin and Goodyear, due to their heavier weight and higher torque."
"ENSO's Pay-Per-Mile Tyre turns the traditional tyre distribution model on its head by selling miles rather than tyres, incentivising more durable products. Only by making fewer, better, longer-lasting tyres will we address the growing problem of tyre pollution and waste resulting from an outdated industry model. ENSO's Pay-Per-Mile Tyre reduces total cost of ownership while helping to manage cash flows, increasing EV range and reducing tyre pollution."
Fintech and fleets, where the rubber meets the road
This new service will be powered by Zeti's patent pending fintech platform, ZERO. Through its cutting-edge technology, Zeti offers an innovative pay-per-mile model to finance fleets of zero and ultra-low emission vehicles — a radically different approach to traditional vehicle financing.
Telematics devices in each EV gather real-time data, such as the mileage and vehicle health. ZERO then combines this with smart contracts to calculate billing on a pooled Pay-Per-Mile basis for both the vehicle and the fleet.
By connecting fleet operators with institutional financers through its proprietary platform, Zeti is looking to accelerate the transition to cleaner fleets in an affordable way — making financing a vehicle as easy and transparent as paying for any other utility.
To date Zeti has enabled the financing of more than £16M-worth of EVs, saving over 3,000 tonnes of CO2.
What works for cars can work for tyres, argues Dan Saunders, Founder and CEO of Zeti:
"We've proved the Pay-Per-Mile model for financing vehicle fleets, so why not also apply the model to the tyres of those same vehicles? ENSO's product speaks to exactly what we are looking to achieve as a company – accelerating the way to cleaner fleets and lower pollution through innovation. Working with ENSO now gives us a holistic solution for fleet owners, making running their fleets simple, affordable, and transparent." 
The implementation of ENSO's Pay-Per-Mile Tyre is the latest development in the commercialisation of its next-generation EV tyres. ENSO's tyres have achieved 'A' energy-efficiency ratings in Germany, and recently broke a Hypermiling World Record, extending the range of an unmodified Renault Zoe EV by 50 miles (12%). 
ENSO will further its commitment to London-based taxi fleet owners later this autumn with the opening of its first tyre station in Central London. In addition, the firm is already working with the Mayor of London, Transport for London (TfL), DPD and Royal Mail, to deploy its range-extending, low-emission tyres on final-mile EV delivery fleets.
ENSO is the only tyre company in the world to have become a Certified B Corporation.
---
Further Reading:
---
---
>>> Do you have sustainability news to broadcast and share? If you would like to see it featured here on SustMeme, please use these Contact details to get in touch and send us your Press Release for editorial consideration. Thanks.
---